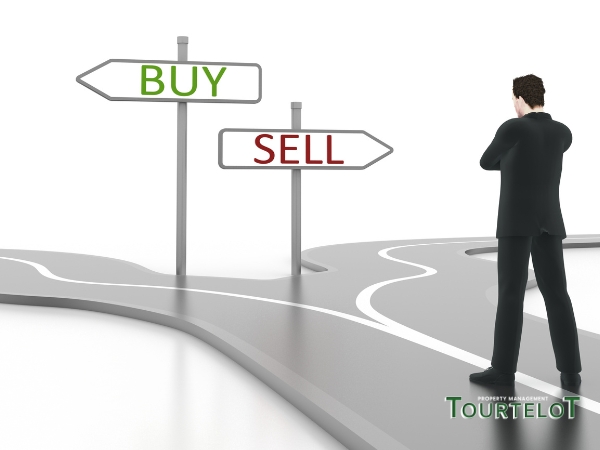 Should you buy or sell property in the current real estate market?
Recent inflation, layoffs, and fears of a recession may have led you to wonder whether you should buy or sell property now. Income property can be an excellent way to generate passive income and build long-term wealth. However, timing is a critical factor when it comes to buying or selling investment property.
Making your move at the wrong time can lead to lower rental yields, reduced returns, and losses. So, what is the right move in the current market? Here's a guide to help you make the right decision.
Start by Understanding the Current Real Estate Market
While certain seasons may be busier than others when it comes to real estate sales, the fluctuations within the market are primarily based on the concept of supply and demand. If you're planning to buy or sell property, it's important to understand the current real estate market conditions and whether your area is experiencing a seller's or a buyer's market.
Buyer's Market
A buyer's market occurs when inventory exceeds demand. In other words, there are plenty of homes for sale, but there are not many interested buyers. When supply is higher than demand, homes typically spend more days on the market, giving buyers leverage over sellers.
This results in pressure on the seller to offer concessions or drop their asking price to incentive buyers and gain an advantage in the market. Sellers are also much more willing to negotiate offers with buyers.
Seller's Market
Just the opposite occurs in a seller's market; demand exceeds supply. The real estate inventory is low, but there are many interested buyers. This is often coupled with buyer competition, putting sellers at an advantage.
Housing shortages often lead to bidding wars, with buyers making competing offers. This drives up the price, usually above the seller's initial asking price.
In a seller's market, buyers are often willing to spend more on a house than they would otherwise. The increased interest also means that buyers are more willing to accept a property as-is without too much negotiation.
Should I Sell My Property Now or Wait?
Historically, late spring and early summer bring out the most buyers, making them the best times of the year to sell your property. But beyond seasonality, your local market dynamics play a huge role in determining whether it's a good or bad time to sell your home.
Why You May Want to List Your Property Now
Prices Are Still High and Inventory is Low
The Florida housing market, for instance, is experiencing a major shift. In mid-April of 2023, the market is undergoing a rebalancing with an increased cost of borrowing and higher interest rates. Property prices in Florida have continued to grow, even with a struggling general economy. This can be attributed to the fact that many people are moving to the Sunshine State to take advantage of the lower cost of living and tax breaks.
Simply put, the demand for property in Florida has not slowed down, but there's a limited housing inventory currently available. Because these factors denote a seller's market, this might be a good time to sell.
Why You May Want to Wait to Sell Your Property
You may want to hold off on listing your property for sale if:
You've Recently Refinanced
Selling your home may not make much sense if you've recently refinanced. In fact, you could lose money by doing so, keeping in mind the fees and closing costs paid during the refinancing process.
Your Property is in Poor Condition
Does your property have any unfinished major repairs or renovations? You may want to wait until you've gotten the work done. Whereas during the pandemic housing boom, most buyers could waive many concessions and take the house as-is, buyers are now more critical regarding a property's condition.
Should I Buy Now or Wait?
With rising mortgage rates and higher home prices, is this a good time to plunge into the investment property market? Real estate is a long-term investment, which makes it different from many other financial markets. There's really never a wrong time to buy an apartment, a house, or land. Even with challenging economic conditions, people will always need shelter and cannot adjust their housing needs as they can with their consumption of other goods and services.
While property prices skyrocketed due to a declining supply of homes and increased demand, there's good news for those in the market to buy. The pandemic-related spike is leveling off, primarily due to the increase in interest rates. These low prices could allow you to enter the market more quickly.
But since mortgage rates have been rising over the years, it may be in your best interest to lock in a lower-rate mortgage now. But if the economy heads into a recession, mortgage rates may go down again. In such a case, you could buy a property now and then refinance when the rates go down.
Regardless of which path you take, it's important to know how much house you can afford. What's more, you need to be aware of the unemployment rate in the area you're interested in. You obviously want to invest where tenants will be able to pay rent as much as possible.
If you're buying property to rent out, you need to understand the local rental markets and the expenses of maintaining your property. Also, keep in mind that you'll likely have to pay a larger down payment than if you were an owner-occupier.
Partner with Tourtelot Property Management
Deciding to buy or sell property, whether now or later, is a major decision that needs careful consideration. The realities of the current market, your financial needs, and your future plans should be important parts of the equation. That said, working with a property manager is a smart move.
At Tourtelot Property Management, we have an in-depth understanding of the Florida real estate market and can help you understand pricing, inventory, and demand trends in your area. We can help you find the best properties to invest in and help you manage the property once the process is complete.